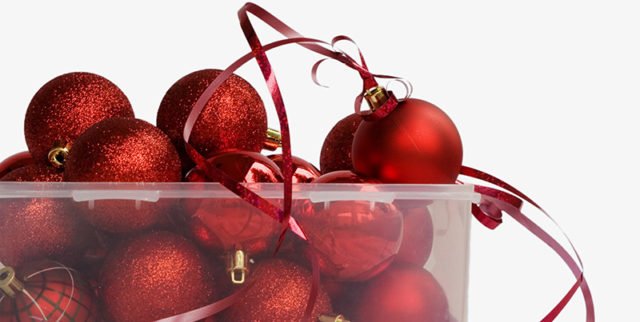 6 Storage Hacks for Your Holiday Decor
Putting your décor away isn't nearly as fun as setting it up for the holidays. Taking down all your decorations and keeping them safe and organized can be stressful and overwhelming.
Give yourself the gift of a less painful teardown this year with these clever and budget-friendly decoration storage hacks.
1. Utilize Egg Cartons and Apple Containers
Reusable egg cartons will keep your round micro ornaments safe. They have excellent cushioning that will prevent fragile decorations from breaking. Lay each ornament in a separate compartment. For larger round ornaments, use plastic apple containers.
2. Use Plastic Cups for Other Ornaments
Some ornaments are not round and can't fit in egg cartons. Plastic cups can provide a smart and inexpensive storage solution for such ornaments. Glue several cups to cardboard to keep the decorations organized while protecting them from breakage. You can even place several layers on top of one other in plastic storage bins.
3. Use Transparent Containers
When the time comes to get your holiday décor out, you can create a big mess when trying to figure out where particular items are. Avoid getting messy by putting your decorations in small, clear boxes. You'll see what's inside them, making unpacking more efficient.
4. Store Garlands in Water Bottles
Untangling bead garlands from all your decorations can dampen your holiday spirit. Avoid this mishap by storing them in water bottles. The garlands will stay tangle-free and slide out easily when you tip the bottles over.
5. Hang Wreaths
You can keep your wreaths fresh, dust-free, and untangled by hanging them on clothing hangers and wrapping them in plastic dry cleaning bags. If you have plenty of wreaths and not enough space in your closet, you can buy a clothing rack for them and place it in your garage or basement.
6. Wrap Lights
Are you tired of untangling strands of holiday lights year after year? Wrap them around rectangular pieces of cardboard to prevent tangles. Make a two-centimeter cut into one side of the cardboard and do the same after every four centimeters on the same side. Make similar cuts on the opposite side as well. As you wrap the light strands around the cardboard, run them through the incisions to prevent them from slipping off.
Alternatively, you can wrap your lights around coffee cans. Make a cut at the top of each can that's big enough to allow the plug to stick through. Label each strand to help you identify which place the lights are meant for, such as the door, tree, or outdoors.
By using these hacks, you'll have a much easier and happier time next year when the time comes to start decorating for the holidays.
If you don't have the space for your decorations and are in need of storage, contact us at Magic Moving.
We offer high-quality storage services to customers in the Bay Area. Our warehouse facilities are clean, secure, and modern and climate controlled. All household items are inventoried for easy access. We're also professional local, long distance, and international movers. We've successfully managed more than 100,000 relocations since 1990. If you need the help of a reliable storage and moving company, call us today at 1-877-246-2442 or use our free online form.