Cleaning Tips
Cleaning a home before moving out helps the new tenant or homeowner get off to a great start in your former home. If you are renting, your lease agreement should specify the cleaning and other duties you need to perform to get your damage deposit back.
While homeowners might not have a specific duty to clean for the next owners, it is always the right thing to do. Try to remember how you felt moving into the home and how much more challenging it would have been if you had to clean up someone else's mess. Remember that sprucing up your home or apartment should happen before the Bay Area movers arrive to transport your personal belongings to your new location.
Start by Gathering Cleaning Supplies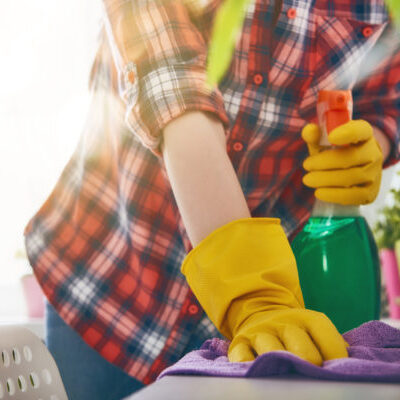 You don't want to get knee-deep into cleaning only to realize the supplies you need are nowhere near you. We recommend gathering the following cleaning supplies before you start on the first room:
Cleaning solution and disinfectant
Duster
Glass cleaner
Mop and bucket filled with water and floor cleaning solution.
Paper towels or small hand towels for wiping surfaces.
Rubber gloves
Scrub brushes
Vacuum cleaner
Once you have everything together, decide which room you want to clean first.
Tackle One Room at a Time
Our Pleasanton moving company understands that the thought of cleaning your entire house in a short time can be overwhelming. You can make it easier on yourself by enlisting the help of your family or roommates and focusing on one room from start to finish. This helps you feel less overwhelmed and gives you an important sense of accomplishment. The good news is that cleaning should be easier and faster because you should have already decluttered in preparation for the move.
If a room has carpet, save vacuuming until you have finished everything else and don't need to walk on the carpet anymore. The same is true if you need to sweep an uncarpeted floor. Be sure to dust and polish thoroughly while leaving nothing on the floor. Pay special attention to the bathroom where you will need to clean the toilet, shower stall, and mirrors in addition to general cleaning.
Don't Neglect the Walls and Your Home's Exterior
These two areas are easy to overlook but difficult for the new homeowners or tenants not to notice. Before you leave, give each wall a scrub down and consider renting a pressure washer to clean your home's exterior. The new owners will appreciate driving up to a home that looks sparkling clean from the inside out.
Are You Looking for Bay Area Movers?
Do you still need to hire Pleasanton movers for your upcoming move? Please contact Magic Movers today to check availability and request a free estimate.