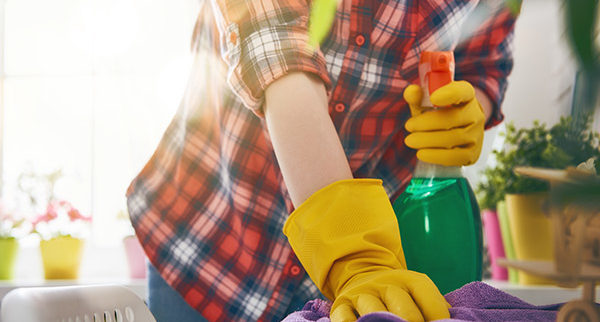 Spring cleaning is an excellent way to smooth out a residential relocation. It makes your home more appealing to potential buyers, and things become less stressful on the day your movers arrive to pack and transport your belongings. An untidy home is distracting and makes your moving project more hectic. It's easier to give your new home a big spring clean when it's empty. Unfortunately, spring cleaning tends to be a tiresome, boring, and expensive chore. The good news is you can use the cleaning hacks below to make this annual tradition easier, more enjoyable, and budget-friendly.
Quirky, yet Useful Spring Cleaning Tips
Clean your kitchen steel with olive oil
Use a few drops of olive oil on a clean cloth to buff your kitchen's stainless steel. This will remove fingerprints and stubborn smears, leaving a mirror-like finish.
Remove pet hair with a squeegee
Picking up pet hair tangled in carpet fibers is a tricky affair. Give your carpet a rub down using a squeegee. Use short strokes along the affected areas and watch how easily the hair sticks to the squeegee.
Remove dust with packing tape
During regular dusting, we tend to ignore speakers, the insides of drawers and lampshades. They're difficult to clean with a regular duster. That's where packing tape comes in handy: press the tape onto a surface and pull it back. It's strong adhesive will grab dirt, grime, and crumbs from crevices and fabric.
Clean your blender quickly with the push of a button
Cleaning a blender's ridged interior and sharp blades can be challenging and dangerous. To clean your blender with ease, just fill it halfway with warm water an a little dish soap. Blend on low speed for 10 seconds. Use a sponge and the soapy water to wipe the upper area. Rinse the blender before leaving it to dry.
Deodorize your bathroom with a simple air freshener
If you want to give your bathroom a pleasant smell without using artificial scents, drip your best essential oils on the inner core of a toilet paper roll. Take care not to drip the oils onto the toilet paper, as you may have to throw away the roll.
Remove grease stains with white chalk, baby powder or corn starch
Many moving companies consider using clothing for padding of other items as one of the most common moving mistakes. As a result, it is easy for the clothes to get grease stains during the move. You'll need to act fast once you realize such a stain has set into your clothes. Press down a paper towel on the stain several times to blot away as much oil as you can. Sprinkle some corn starch or baby powder on the area or color over it with a stick of plain white chalk. As the powder absorbs the oil, it forms a crust. Brush it off gently and treat the item with laundry detergent before laundering it.
Combat garbage spills with newspaper
If you hate garbage spills and fumes, simply place some newspaper at the base of your bin. It will help absorb leaks and odors.
Microwave your sponge
As good as your sponge may be, it's good to freshen it up halfway through your cleaning effort. Wet it then microwave it on high for two minutes to disinfect it.
Get your bathtub shiny clean
Getting rid of the unsightly bathtub rings is usually a tough job. Make your tub sparkle by sprinkling baking soda on the rings. Allow it to then sit for about one hour.
Clean your mattress with vodka
As weird as it may sound, common vodka is an excellent disinfectant for your mattress. Use a spray bottle to spritz on your mattress. Let it dry completely before putting the sheets back on your bed.
Clean up underneath your sink with shower curtain rods
You can transform the area under your kitchen sink into a unique storage space with a shower curtain rod. Just install the rod in the cabinet under your sink, and you'll create a little more space to hang your cloths and spray bottles.
Looking for Bay Area professional movers? Magic Moving can assist with local, long distance, and overseas moves.
This spring, these tips will help get you through your cleaning checklist. If you're preparing for a move, contact us at Magic Moving, a leading moving company in the San Francisco Bay Area. We offer a wide range of moving services including local, long distance and international moving, office relocation, and storage solutions. No matter where you're moving to, we will ensure that all of your possessions arrive at your doorstep safely, on time and on budget. Call us today at 1-877-246-2442 and tell us how we can help you.