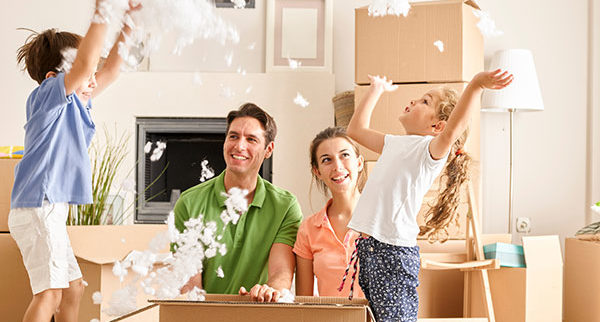 Read These Tips Before Contacting Pleasanton Movers
If you're planning a move somewhere around the Bay Area, your best bet for pulling off the move smoothly will be to engage the services of a reputable Bay Area moving and storage company. We are a moving company with more than 20 years of experience in providing expert moving service, as well as superior customer service. Here are some tips we can offer you on how to go about moving with kids.
Things to Keep in Mind when Moving with Kids 
There will usually be a good amount of stress involved when you're moving with kids, because they're being forced to leave behind a comfortable and familiar old home, and move to an unknown, unfamiliar new dwelling. One way to reduce this level of stress is to involve your kids in the moving process, so they don't have time to think about leaving their old home. This can include packing things in boxes, organizing things in their room prior to the move, and maybe even decorating some of the boxes which have their belongings in them.
Reduce Their Stress
You can defuse much of the stress of moving for youngsters by acquainting them with details of their new home. It might even be a good idea to take them to the new dwelling (assuming this is practical, and not across the country), so they can become somewhat familiar with their new surroundings. Tell them what their new bedroom will look like, what the neighborhood is like there, explain about some local features and attractions, and talk about the new school they'll be going to.
Another important tactic you can use is to work with a Pleasanton moving company like Magic Moving, who are very kid-friendly, and who can help them understand the whole process, and even involve them in it. Some companies provide special services which are designed to keep kids occupied during the move, so they won't feel left out, and so they can actually participate in some way. 
Help Them Feel Secure
Minimizing change in the new house is another way you can soften the blow of moving into a brand new home. By arranging your kids' bedrooms in the same way as they were in the old house, you can provide them with at least some semblance of familiarity. If you had any kind of regular family activities before, these should be continued in the new house, so kids can get a sense of continuity rather than disruption. One last idea is to make sure that your kids can bring along their favorite toy on moving day, or whatever that one object is which provides them with a feeling of security – that can make all the difference between feeling secure and content, as opposed to feeling insecure and disoriented.
Are You in Need of Moving and Storage Services?
If you are planning a move and would like to support from an expert Bay Area moving and storage company, give Magic Moving a call! We are Pleasanton movers who will get you a free quote on services and help your move go as smoothly as possible.